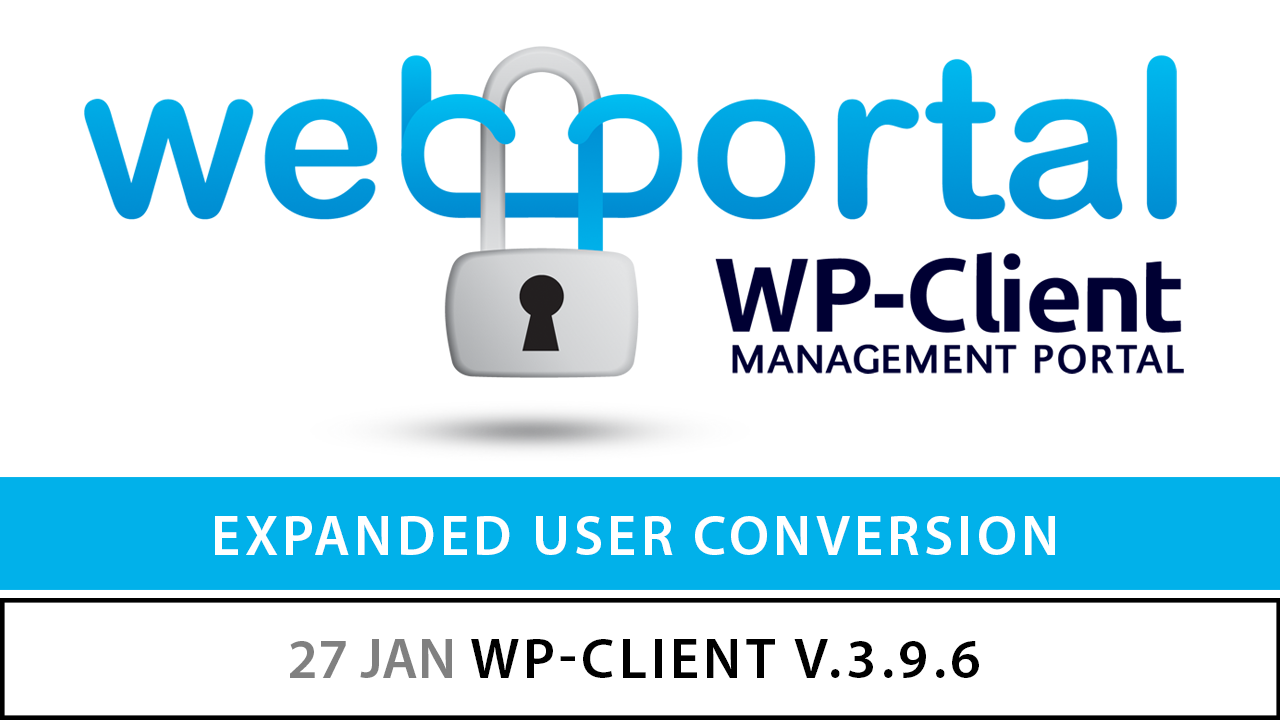 27 Jan

WP-Client v.3.9.6
WP-Client v.3.9.6
We are proud to announce the release of WP-Client v. 3.9.6! This upgrade and other recent releases include several feature requests, in addition to the usual tweaks, bug fixes, and functionality improvements.
The first big addition to this latest release is a simple one, but highly useful nonetheless. In recent updates, multiple new capabilities have been implemented for the WPC-Manager user role. These new capabilities (related to the "wpc_client_private" shortcode, and private messaging) give admins even more control over exactly what their WPC-Managers have access to. With these new capabilities, WPC-Managers can be given the ability to view content that is protected inside of "wpc_client_private" shortcodes that are being used within an installation, similar to the access that an admin has over the same function. This gives admins the option to delegate management of this content to a WPC-Manager, instead of needing to handle it themselves. Additionally, a capability has been added that allows WPC-Managers admin-level access over their assigned client's private messages, giving admins yet another avenue for delegating everyday duties to their management staff.
Another addition in this recent update is related to "converting" users. As of WP-Client v.3.9.5, you will now be able to set specific rules related to how users are auto-converted in your installation. For example, you may have it set to have both Subscribers and Contributors to be automatically converted to Clients, but perhaps you want them to be converted in different ways (maybe you want Contributors to keep their old role permissions, but you want Subscribers to be fully converted to Clients). With the new user conversion settings, you can set individual rules for each scenario, allowing you to setup each conversion exactly how you would like. This gives you completely control over what users are converted, what Circles they are assigned to, and what the end result of the conversion is, on a role-by-role basis.
This release also include some smaller feature additions, such as new options for SMTP, as well as some fixes related to payment processing. Additionally, a few issues related to Private Messaging have been resolved, mostly related to the CC functionality. A few other minor bugs have also been addressed, in addition to the normal streamlining and text updates.
Changelog:
– Added temp password feature for existing users;
– Added capability to allow managers to see all messages of their clients;
– Added capability to allow managers to see private content inside [wpc_client_private] Shortcode;
– Changed titles of payment process steps (using text vs numbers);
– fixed PayPal for some servers (changed SSL to TSL for CURL);
– Fixed access for managers to files of assigned clients;
– Fixed treetable problem with loading many thumbnails file (optimized);
– Fixed files treetable for mobile;
– Fixed terms/conditions on login form;
– Fixed conflict for save WPC role on edit user page;
– Fixed Fatal Error (redeclare ReCaptcha class);
– Fixed Private Messages admin notices for some installs;
– Fixed New Private Messages widget for Dashboard for some installs;
– Fixed slashes in subject and content in Private Messages;
– Fixed Private Messages's shortcode pagination attribute;