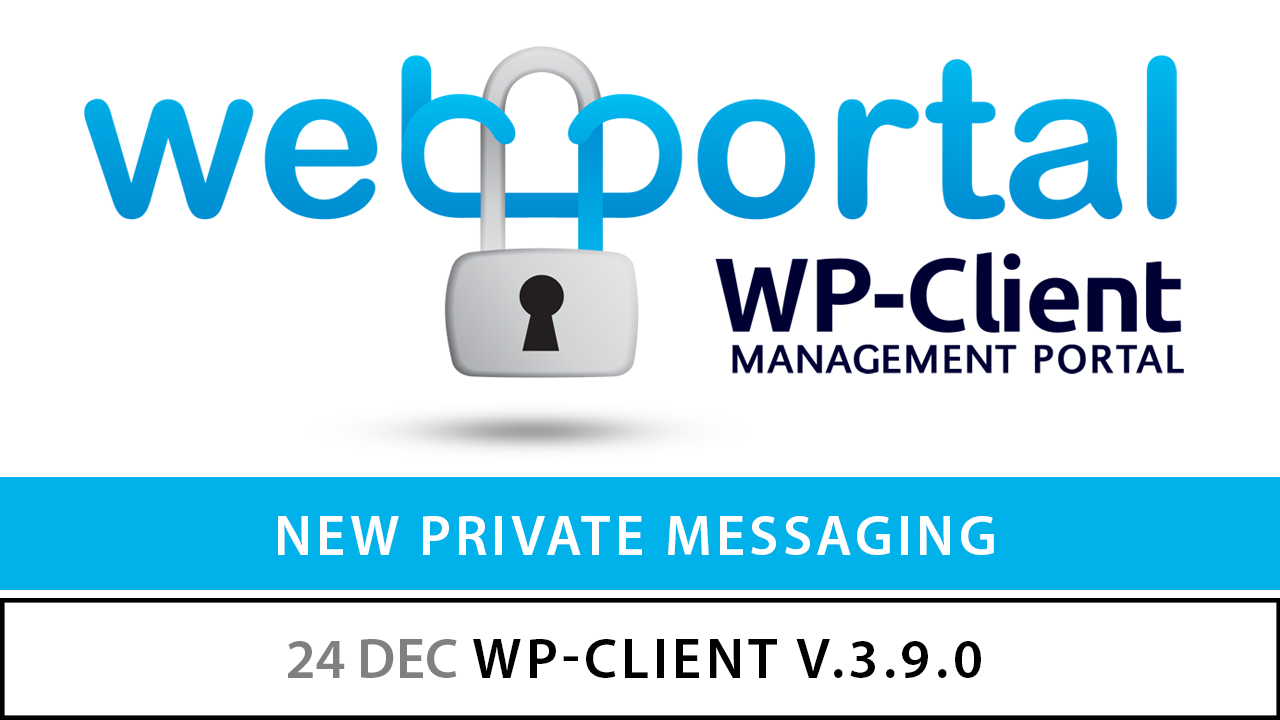 24 Dec

WP-Client v.3.9.0
WP-Client v.3.9.0
We are proud to announce the release of WP-Client v. 3.9.0! This upgrade and other recent releases include several feature requests, as well as compatibility with WordPress 4.4, in addition to the usual tweaks, bug fixes, and functionality improvements.
The biggest addition to this latest release is the all-new Private Messaging feature. Not only has the Private Messaging been given a full face-lift, but the functionality has had a complete overhaul as well. As a WP-Client v.3.9.0, admins and managers can use the Private Messaging functionality to send messages to any other WP-Client user in the installation. This means that messaging is no longer limited to being only between admins-and-clients and managers-and-clients. Now, a admin or manager can send a private message to another admin or manager, or to a Staff user, or even a Teammate. Of course, the functionality to send a private message to a Client, or to a Circle, still exists, and can be utilized similarly to how it functioned before this recent upgrade.
Another big addition in v.3.9.0 will affect any new installations of WP-Client. As of the latest version, a WP-Client Setup Wizard is available as an option when WP-Client is first installed on a new site. This Setup Wizard, which can be skipped if desired, allows you to quickly set some of the more common settings within the plugin (such as custom login, business info, etc), all in a easy-to-use step-by-step guided wizard. We hope that this addition will help ease any confusion and feelings of being overwhelmed that customers can sometimes encounter when installing the plugin for the first time. A change that is related to this involves a new creation logic for the WP-Client Theme Link Pages. Beginning with v.3.9.0, the WP-Client Theme Link Pages will install automatically in all new installations of the plugin, in an effort to help cut down on the number of manual choices the admin needs to make with a new installation.
This release also include some smaller feature additions, such as additional default currencies, as well as some fixes related to SMTP email sending. Additionally, a few issues relation to Custom Fields have been resolved, mostly related to how they were displaying when used in HUB and Portal Pages. The last large change of note is related to WordPress 4.4 compatibility. WP-Client is officially compatible with WordPress 4.4 as of WP-Client v.3.9.0. A few other minor bugs have also been addressed, in addition to the normal streamlining and text changes.
Changelog:
– Compatibility with WP 4.4
– Deleted <p> tags from Display Custom Fields shortcode [wpc_client_custom_field_value];
– Rewrote Private Messages feature;
– Rewrote logic of install plugin pages (for new installations);
– Added Avatars feature;
– Added setup Wizard (for new installations);
– Added feature to import clients/staffs with temp passwords from *.csv;
– Added ability to turn off verify_email in Import Client ("verify_email"=>"0");
– Added ability to expand/collapse rows in files treetable by click to "tr";
– Added portal page tags;
– Added visibility option for Client Staff Custom Fields
– Added changes to profiles (WPC-Client, WPC-Admin, WPC-Manager, WPC-Staff);
– Added more default currencies;
– Added compatibility fix for gravity form registration;
– Added Capability for manager – allow/deny change individual capabilities;
– Fixed datepicker on clients page;
– Fixed set From Name and Email for SMTP;
– Fixed problem with encrypt/decrypt password of smtp on some servers;
– Fixed autocomplete for password field;
– Fixed email validation on Reset Password;
– Fixed tooltips;
– Fixed zero-decimal currencies as JPY and etc in Stripe;
– Fixed currency text on payment history;
– Fixed of Custom Fields for both types;
– Fixed problem with sign "&" in password;
– Fixed logic of reset password from Client and staff Profiles;
– Many small fixes;
– Style changes;
– Text changes;